Pierre             Génisson
Biography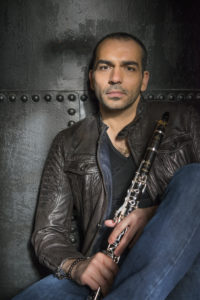 Born in1986, Pierre Genisson belongs to the new generation of talented french woodwind players.
A prize winner at the Nielsen International Competition, he won the first prize and audience prize at the prestigious Jacques Lancelot International Clarinet competition in Tokyo.
Following this success, he records his first CD « Made in France » who just won several awards in the classical music world such as Diapason d'or and FFFF by Télérama Magazine .
He begins his musical studies in Marseille, before entering the prestigious « Paris Conservatoire » in 2005, to study with Michel Arrignon. There, he is awarded the first prize with honors in Clarinet and Chamber music. Then, he followed the « Artist diploma  program » with Yehuda Gilad at the University of Southern California in Los Angeles.
Pierre was the principal clarinet of the « Orchestre de Bretagne », one of France's leading orchestra. He plays with his orchestra in many reknown International festivals, as « Les folles journées in Nantes », the « Berlioz Festival », the Reims Festival, the Aix en Provence festival, the Dinard festival, the Madrid festival, the Clarinet Festival in Austin Texas, the « Encuentro festival » in Santander, Evian Festival, Mozart Festival in Würsburg, Colmar, Menton…
He is a regularly invited as guest principal with most of the European orchestras, and plays under conductors such as Yannick Nezet-Seguin, Emmanuel Krivine, Lionel Bringuier, Olari Elts, Krystztof Urbansky, Darell Ang,Sacha Goetzel, Krysztof Penderecki, Charles Dutoit.
A chamber music enthousiast, he plays with Thierry Escaich, Franck Braley, Marielle Nordmann, the Metropolitan Opera house's principals, David Bismuth, François Chaplin, Delphine Haidan, Nicolas Dautricourt, François Dumont,Florent Boffard, Juliette Hurel Wolfram Christ, le Trio Elégiaque, Claire Désert, the Voce Quartet, Hermes Quartet, AdrienBoisseau…
As a soloist, he plays with the Deutsches Symphonie Orchester Berlin, the Tokyo Philharmonic, the Odense Symphony, the Trondheim Symphony,the Orchestre de Bretagne, Orchestre de la Nouvelle Europe, l'orchestre Royal Philharmonique de Liège. In venues such as, Suntury Hall of Tokyo, Salle Gaveau, Auditorium of Radio France, Theatre National de Bretagne Odense Konzerthus, Paris Cité de la Musique, Liege Philharmonie, Yokozuka art center…
In 2011, he makes his Berlin debut, playing the Debussy Rhapsodie and Bruch's Double Concert at the Berlin Philharmonie.
His second recording will include Mozart and Weber Quintet with the string quartet of the soloist of the Metropolitan opera in NYC (Aparté/Harmonia Mundi , first Half 2017).
Pierre Génisson will create (world premiere) next year the concerto written by the French composer Eric Tanguy with the Royal Philharmonic orchestra of Liège.
Genisson is a Buffet Crampon Artist and plays « Tradition » clarinets
#discography
Discography
Click on album cover to listen to music.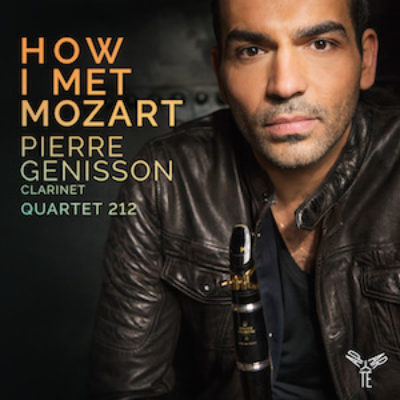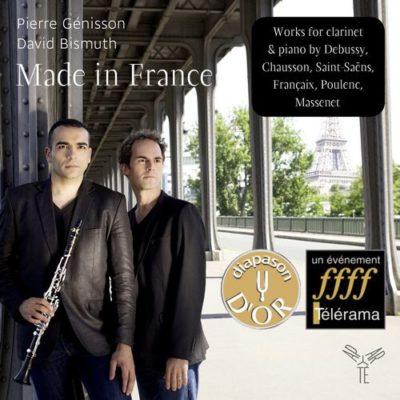 Artist

Pierre Génisson, David Bismuth

Released

2014

Genre

Chamber Music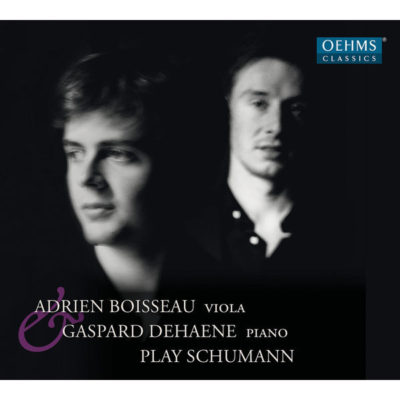 Events 
25 avril | Nantes
Concert Fondation Banque Populaire

29 & 30 avril | Deauville – Festival de Pâques with Renaud Capuçon, Nicolas Angelich, Ensemble Ouranos…

5 mai | Paris – Salle Wagram,
Soirée élections de Radio Classique avec l'Orchestre Colonne, direction Laurent Petitgirard, introduced by Olivier Bellamy

7 au 19 Mai | China Tour
Wuhan, Shanghai, Pékin… récitals and Master Classes

22 Mai | Théâtre des Champs-Elysées
with D. de Williencourt, Gérard Poulet, Bruno Pasquier, Marielle Nordmann…

23 mai | Oléron – Festival Pierre Loti
with the Trio Elégiaque

25 & 26 mai | Festival du Luberon with the Quatuor Malibran

27 mai | Paris – Festival Les Musicales de Bagatelle
with the Quatuor Varèse

28 mai au 2 juin | Narbonne résidence à l'Abbaye de Fontfroide
with Anna Petron

4 juin | Parc Floral Paris – Les Musicales de Bagatelle with Marielle Nordmann, Julien Szulman, Jeyoon Park, Jérémy Pasquier…

8 juin | Paris – Radio France, Studio 104
Concert / Emission, introduced by Rollando Villazon, with François Dumont and Marc Bouchkov

9 juin | Bourg-la-Reine
Auditorium with Anne Mercier Violon, Fuminori Takeda

10 juin | Troyes – Centre de Congrès de l'Aube
Les Musicales de Bagatelle

11 juin | Chauny
with the Quartet 212

13 juin, Paris – Salle Gaveau
Launching show How I Met Mozart with the Quartet 212

16 juin | Abbaye St Vivant Festival Musique et Vin
with the Quartet 212

21 juin | Clos de Tart – Festival Musique et Vin with the Quartet 212

26 juin | Château du Clos Vougeot – Festival Musique et Vin
with the Orchestre des Climats

5 juillet | Les Musicales de Cambrai
with Karine Deshayes, Delphine Haidan, François Chaplin

9 juillet | Les Musicales de Cambrai – Théâtre

11 juillet | Les Musicales de Cambrai
with the Quatuor Modigliani

21 & 22 juillet | Vicq-sur-Gartempe – Festival Les Chaises Musicales with the Quatuor Ebène

23 juillet | Festival d'Obernai
with Justine Laurenceau and David Bismuth

25 juillet | Festival d'Obernai

27 juillet | Festival d'Obernai
with Nicolas Vaude, Geneviève Laurenceau, David Bismuth

1er au 7 août | Salbris
Professor Franco-Chineese musical academy

8 Août | Royan – Les Jeudis musicaux
with Camille Thomas, David Bismuth

16 août |Festival Perros-Guirec
with Camille Thomas et David Bismuth

24 & 26 août |Festival d'Entrecasteaux

27 au 30 août | Gers
Recording with Virginie Constant and Fanny Vincens

8 septembre | Bremen MusikFest
Die Glocke / Grosse Saal with the Quatuor Ebène

16 & 17 septembre | Prieuré de Lavaray – Les Musicales de Bagatelle with Emmanuel Rossfelder, Marielle Nordmann, the Quatuor Varèse …

23 septembre | Vincennes

6 octobre | St Tropez
with Geneviève Laurenceau and David Bismuth

16 octobre | Allemagne Musicales du Parc à Wesserling
récital with David Bismuth

3 au 8 novembre | Croisière Musicale sur le Danube

8 au 18 novembre | Japan Tour

24 novembre | Liège – OPRL
World creation of the concerto for clarinet from Eric Tanguy

1 & 2 janvier | Allemagne
Concerts du Nouvel An – Tonhalle de Düsseldorf
« Pierre Génisson , un jeune maître marseillais de la clarinette qui nous offre à savourer une sonorité « Made in France » qui rappelle celle des pères fondateurs de l'école française du XXe siècles »
Diapason / Oct 2014
« Une véritable affinité élective et sensuelle » FFFF – Gilles Macassar Télérama / Oct 2014
« Belle personnalité qui s'affirme, la ligne musicale est réfléchie, la sensibilité du jeu est certaine, et les qualités sonores s'épanouissent » Classica / Nov 2014
« Un parfait ambassadeur de l'élégance à la française. Du grand art ».
La Croix / Déc 2014
« Pierre Génisson s'installe dans le paysage musical français avec un premier disque éblouissant où la virtuosité et la rêverie s'associent au gré d'un langage bien de chez nous »Revue des deux mondes

« La signature d'un clarinettiste (comme celle d'un chanteur), c'est d'abord un timbre : celui de Pierre Génisson est séduisant, moelleux, quasi charnel. C'est ensuite un souffle : celui de Pierre Génisson est long, ce qui lui permet des phrasés souples, déployés sans précipitation, qui tombent juste (comme on le dit d'une robe). C'est enfin un art de l'expression : Pierre Génisson le maîtrise parfaitement, sachant jouer à la fois d'un legato subtil et lyrique, d'infimes ritardendos, d'attaques ardentes.
C'est pour tout cela que j'aime l'artiste qu'est Pierre Génisson. » Alain Duault